Heart to Heart
As we celebrate another year, it's special to take a look back and reflect on our journey. PWNP's very first event was a Heart to Heart Tea in February 2007.  
At the tea, we launched our mission to help shelters dedicated to women and children in Maryland. We collected Toiletries & Valentine Chocolate boxes, and the girls in attendance made Valentines for the people at the shelters. This was an exciting beginning & we are so proud and grateful to our community for embracing our mission. By linking ourselves together, we have grown to over 150 supporters and 25 corporate sponsors!
Best of all, the outstanding support has afforded PWNP to help over 10,000 women and children in need. Thank you!!!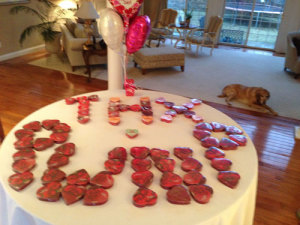 Save the Dates!
Details to follow on our Website & Facebook
March 10 & 11 – W by Worth shopping fun. Step into Spring in Style, and a portion of the proceeds will go to the shelters we support.

May 2nd – Join us for a fun night out at Players Bar & Grill in Marriottsville. Heads Up band is back by popular demand and will play live from 7:30-11:30.
June 29th-  Our annual Kids Triathlon at Cattail Creek Country Club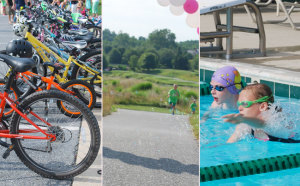 It is with an abundance of gratitude that we thank two very special Quiet Angels, Betsy Perry & Laura Laport, as they step down from the Board of Directors.Betsy and Laura were also original founding members and instrumental in kicking off our first event in 2007. For the last eight years, their loyalty and dedication helped launch PWNP into an organization serious about who and how we help in order to make an impactful difference. Betsy served as Relationship Manager for Sarah's House in Anne Arundel County and co-chaired several events through the years. Laura served as Relationship Manager to Fostering Futures and acted as Recording Secretary.

We express our sincere appreciation, but not a farewell because we know we will be fortunate to have these wonderful ladies lasting support. 🙂 Thanks Betsy & Laura… you are already missed!

At this time, we'd also like to welcome Lindy Glassman to the Board of Directors. Lindy has been a loyal supporter and Quiet Angel for several years.

Just last year Lindy did an outstanding job with our raffle baskets at the kids Triathalon. We are very excited to have Lindy take on a new role in our organization. Welcome Lindy!

The Great Chocolate Box Challenge
Through this fun drive, PWNP collected 647 Valentine chocolate boxes & 1,197 toiletry items for four local shelters.
Congratulations and a thank you to our wonderful winner* Eileen Dietz (neighborhood in Monticello). We also want to send out a HUGE thanks to the following awesome neighborhoods for participating and collecting an extraordinary amount of goodies:
Country Springs: Vicki Cutroneo
Cattail Creek: Judi Miller
Chase at Stonybrook: Erin Murphy
Westwoods of Cherry Grove: Lurdes Abruscato
Clarks Meadow: Jan Lowe
Cattail Woods: Beth Halley
Cloverfield: Teresa Puchalla
*Monticello:  Eileen Dietz
Warfields: Elaine Yoltay
Danmark: Celia Dahan
Cattail Creek: Terri Curran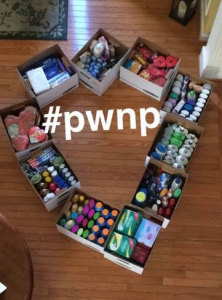 In Your Corner
It may be cold outside, but warm hearts are multiplying inside PWNP this February to offer women and children in need a cheering corner. Staying true to our mission to spread both "Help and Hope," we are grateful for these incredible acts of kindness:
A local Girl Scout troop made custom blankets and wrote encouraging cards for a shelter.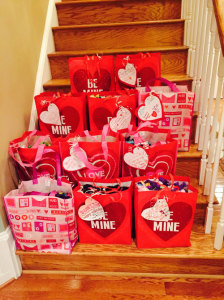 A baby-basket – full of goodies – and a generous donation is given to a mom-to-be who does not have a support system.
Bagged Lunch Line
Where: St. Andrew's Episcopal Church 2892 Maryland 97 | Glenwood, MD 21738 What: Grab your family and help others by making bagged lunches in a fun, comfortable environment that is close to home. Sign up:www.pwnp.org
Ready, Set, Mark Your Calendars for Lunch Line:
February 25, September 23 , April 8, May 20, November 4, July 1, December 16, August 12, January 20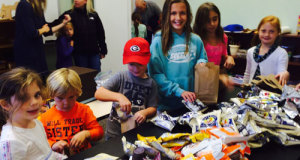 **********
Stepping Out
Thanks to all our Tri participants and Sponsors, PWNP helped 93 kids step out to school this fall with pride. With your generosity, we were able to shop and fill special wish lists for back-to school-shoes. Apparently you could barely hear a word with all the screams of excitement when the new shoes were delivered. A 5-year-old little boy couldn't believe he would not have to share his new shoes with his brother. A teenage girl was so excited to wear her new shoes and be just like the other kids at school (and is determined to keep them clean). So you see, with your help, PWNP can truly MAKE A DIFFERENCE.
In Your Corner
PWNP is pleased to share we recently helped cater a Launch Party for three youths who had been in foster care for a long time at Voices for Children. To help celebrate their successes we delivered, by special request, Chipotle for 30 guests. It was a great send off for these young adults. One is joining the military and the other two are working and living in good situations. Wishing them continued success!
Blanket & Cold Medicine Drive – Help us in these final days! 
The drive ends October 27th! Get your items in before the deadline.
PWNP Is Collecting:
New full size blankets
New Umbrellas
Children's/adult cold medicine (unopened Tylenol, Motrin, Nyquil, Generic, All brands)
Drop off points:
Cattail Creek Tennis Pro Shop
Circle D
Homes of Jean Butera, Jen Sheehan, Laura Laport, and Traci Spiegel.
Items are to be donated to Grassroots & Sarah's Hope.  For information about dropping off, email pwnpcharity@gmail.com.
Bagged Lunch Line 
When: November 16th and December 14th
Where: St. Andrew's Episcopal Church 2892 Maryland 97 | Glenwood, MD 21738
What: Grab your family and help out others by making bagged lunches in a fun, comfortable environment close to home.
Sign up: www.pwnp.org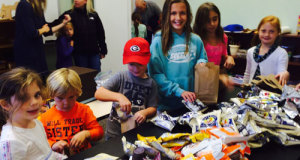 Quiet Angels
The charitable act of local girls Caroline and Caitlin, age 8, was so inspirational we just can't keep quiet! These two amazing young ladies not only shopped and baked, but they also took their bake sale door-to-door one night after dinner to offer dessert to their neighbors and help spread awareness. They raised $200 for PWNP. Great job girls and thank you and your wonderful neighbors for their support.